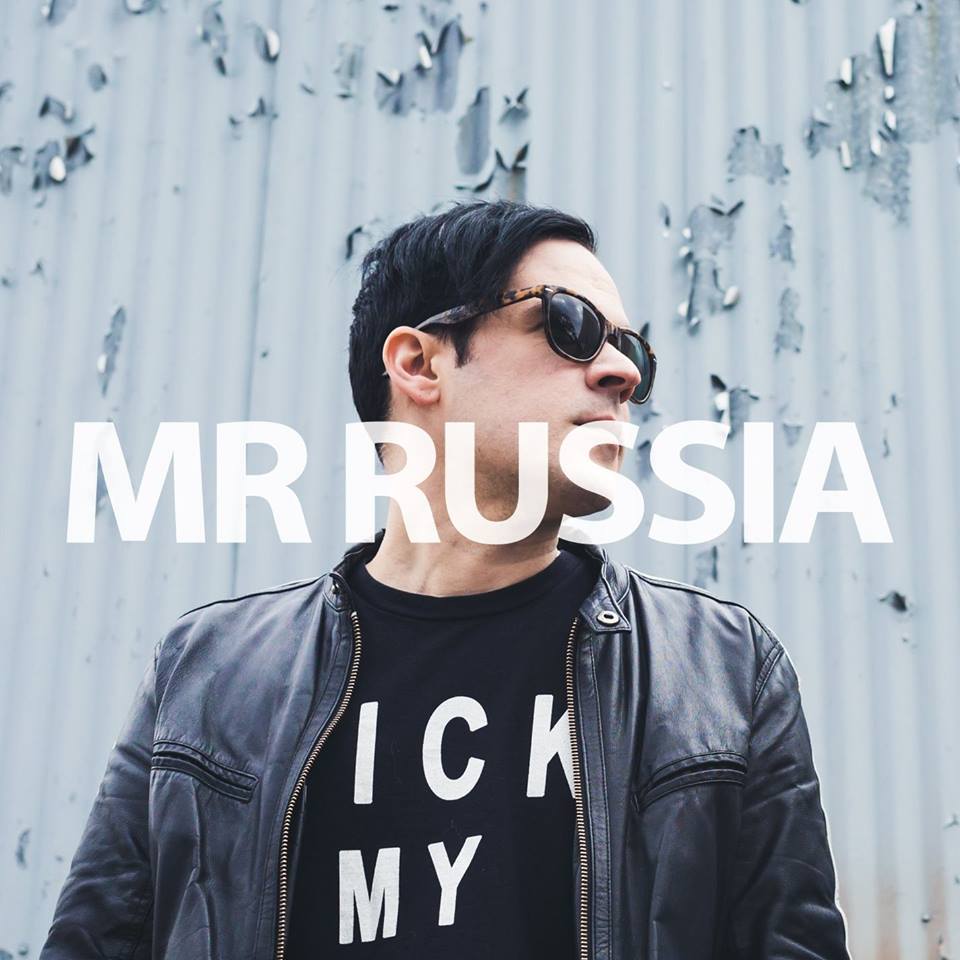 There's been much talk in the news and media about collusion with the Russians. Even here in my foster home of Canada, the stories have been unavoidable. It's time I came clean – I have been fostering a relationship with the Russians, well one in particular. MR RUSSIA.
I've known Ivan Russia, frontman and bassist, for the Chicago 2-piece rock band MR RUSSIA for about 23 years. We first met as misguided youths, hanging out at late night coffee shops and discussing various noisy underground bands. At the time, I had my own band. It was an industrial rock piece with the teen-clever name Dead Girl – Good Girl. Ivan tried out for the band as a bass player and I quickly recognized that he had too much drive and skill, normally a good thing but not if I wanted to keep it MY band. The fact that he's still rocking out crowds across the mid-west and I haven't touched a synthesizer in years lends credence to my decision.
When I published Better People, my first short story, Ivan was one of the first people to offer me feedback on it. To quote he said, "I'm just glad it wasn't crap!" which was his Russian way of saying he liked it. He told me some lines from the story had inspired him and he was thinking of building a song of those lines.
It was shortly after that time that I had my incident with a truck running me over. Ivan sent some well-wishes and uttered the words Car Crash Lullaby. Thus began our writing collaboration. Those three words excited me as a potential title to a story and I wrote what's become a personal favorite black comedy noir.
At the same time, Ivan sent me an unreleased track he had written that was not fitting with the rest of his project. He suggested I take the already brilliantly named Band-Aid for a Bullet Wound and write a story off it and release the song to readers as a bonus. I was happy to oblige. BA4BW will be released to Patreon supporters later this week!
With both stories being inspired by MR RUSSIA turn of phrases, it made sense for Ivan to do the voice narration. I think he's done a brilliant job. His gravelly, bitter voice colors the characters wonderfully. It never hurts to keep talented friends with microphones handy. The audiobook versions are available to Patreon supporters of $7 or more.
Please enjoy the song Band-Aid for a Bullet Wound and be sure to sign up on Patreon to receive the story.
Cheers,
S.M. Fedor
Band-Aid for a Bullet Wound. Music & Lyrics by MR RUSSIA
"Band-aid for a bullet wound
where she shot me down
she's got a ring around her finger
she wears it like a crown
a pretty little sister the talk of this whole town
her name only comes up when i got sorrows to drowned"
she wore those summer dresses
the kind they sell in may
she worked in a watch shop
but wouldn't give me the time of day
she's cheatin' on her husband
n' he's cheatin' on her too
everybody's getting some
but me and you"Band-aid for a bullet wound
"Band-aid for a bullet wound
where she shot me down
she's got a ring around her finger
she wears it like a crown
a pretty little sister the talk of this whole town
her name only comes up when i got sorrows to drowned"
well i should of would of could of
yeah it would of been nice
if things had turned out better
i would of made her my second wife
she ensnared me with her smile
n' put a bullet in my chest
now i'm staggering drunk bleeding
still totally obsessed
"Band-aid for a bullet wound
where she shot me down
she's got a ring around her finger
she wears it like a crown
a pretty little sister the talk of this whole town
her name only comes up when i got sorrows to drowned"
if love is a boat
then i have no oars
she would be the coast line
but i can't see any shore
tossed on a sea of heartache
and this ship is sinking fast
everyone knows a love-boat wasn't built to last
"Band-aid for a bullet wound
where she shot me down
she's got a ring around her finger
she wears it like a crown
a pretty little sister the talk of this whole town
her name only comes up when i got sorrows to drowned"
bartender bartender
bring me another round
i'm in no shape for driving
my keys are no wear to be found
i lost them with my watch
my moral compass, my first wife
i was out picking gin blossoms
when they say she took her life
"Band-aid for a bullet wound
where she shot me down
she's got a ring around her finger
she wears it like a crown
a pretty little sister the talk of this whole town
her name only comes up when i got sorrows to drowned"